RAW, NATURAL HONEY FOR SALE
Crystal's Honey brings you the closest thing possible to honey straight from the comb. We offer raw, natural honey for sale that highlights many of the flavors brought out through the pollination of wildflowers, blueberries, oranges, and more unique options. We are now New York Grown and certified on some of our varieties, providing you with the highest quality honey that you can trust. Learn more about our growing practices here. We're confident you'll choose to buy raw honey from Crystal's!
I came across your honey during a local apple picking adventure. I am not ashamed to say I am in love with the orange blossom honey! So much so, I just ordered more for the winter (farm stands are closing now) and decided to try the cranberry too. I have never been a big honey fan but now that I have tasted your raw honey - I can eat it by the spoonful. I will be a repeat customer for life. So glad I decided to sample a small jar a few weeks ago.
Debbie Jones
https://www.facebook.com/CrystalsRawHoney/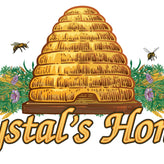 Dec. '17, we purchased the 20 lb pale of raw wildflower honey. We loved it and it was gone before a year had passed. In July '18, we bought a 60 lb pale of the raw wildflower honey and picked it up in the store. Crystal's was very accommodating and allowed us to pick up they honey after normal store hours since we were only in the area for 3 days, and we had to work around our kids' nap schedules. This honey was even better than our first 20 lbs! It is really creamy with an almost butter like consistency, and tastes wonderful. So good that I sometimes sneak spoonfuls of plain honey. We highly recommend them and their honey!
Kelly V.
Traditional, unfiltered, wildflower RAW honey. I have been using this heaven fluid for decades, it keeps energized and healthy, diabetic friendly. And this product is produced at Bellirica MA, one of my favor place in MA, pure land and air, but Massachusetts natural honey is the best anyway. This one is little pricy but it's worth it, definitely recommend.
Jason Z.
Comb Honey
Honey in its rawest form.  Made for you by our bees from the finest wildflower honey.
More info
From the bees, to the bottle, to your table.
We pull the honey off the hives, extract it, and bottle it—it's that simple!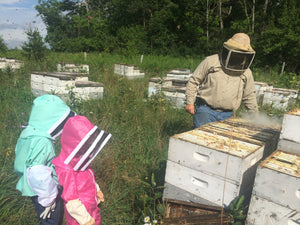 Our goal is to offer raw, natural honey for sale that provides people with honey that's true to the floral sources considered local to the market areas served, without blending to achieve a price point.
Great Quality and Savings
When you buy raw honey from Crystal's, you'll get both great quality and great savings!
Gifts and Favors
Priced right
Bulk Honey
Product of USA only